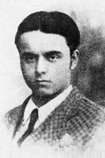 The young Sassu

Born in Milan in 1912, Sassu started his artistic career at a very early age; already in 1927 he was exhibiting in a Futurist show at the Galleria Pesaro in Milan, while the following year he participated, just 16 years old, in the Venice Biennale.

His model at the time was Boccioni, but he was also attentive to the painting of Gaetano Previati, Carlo Carrŕ, who was a friend of his father, and the Constructivist Giandante X. He became familiar with the works of Picasso and Cézanne through reproductions; other important occasions for his formation as an artist, besides visits to the Pinacoteca di Brera, were the manifestations of the Futurist avant-garde, from the "noisemaking" shows of Luigi Russolo to Enrico Prampolini's pantomimes.

With Bruno Munari in 1928 he signed the Manifesto of "Dynamism and Muscular Reform" painting, in which he theorized a search, in art, for new, antinaturalistic dynamic forms.