Robot Dynamism

The desire for a "completely new and original... mechanical world" led Sassu to make his drawing of 1927 dedicated to machine-people: Robot Dynamism and L'uomo meccanico. And, along with the typical expressions dedicated to the dynamism of modern means of transportation, as seen in Il treno, Auto in corsa, Airplane+Sun, he elaborated strongly synthesized representations, both from the formal and chromatic points of view, of the industrial landscape. Examples are the drawing Il porto, contemporary with the study for Porta Venezia, and Metal Foundry, Altiforni, and Miners on 1927, all anticipating an antinaturalism which is more pronounced in the later The Furnaces and The Forge.

In the small pen-and-ink The Builders, of 1927, preparatory for the tempera on paper with the same title of 1929, and in charcoal and pastel portraits like Teppa and L.P., a Futurist-Boccionian structure survives, while in some temperas of 1928-29 like the series Creation a consonance of style can be detected with the research being done in those same years by Giandante X.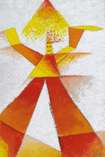 Creation

But by now we are at the end of his experience of Futurism: between 1928 and 1929 he participated for the last time in a manifestation by the group, that is, the "Mostra d'Arte Futurista, Novecentista, Strapaesana" in Mantua, where he exhibited Guerra and Costruzione. In this phase emerges the contrast between his search for a soft, delicately handled painting style, aiming at a solid grasp of the forms, and the use of flat colors still being practiced by the young Futurists.